Racing in the Rain Advanced Skills Clinic AM/PM or Full Day Option
November 6 @ 8:00 am

-

5:00 pm

$105.00 – $649.00
A Must for all Competition and High Performance Drivers, ProFormance Racing School's Rain Skills Clinic – Registration Open!
Driving on a wet racetrack takes a special set of advanced car control skills that can only be developed by experience.
It all began when our chief instructor, Don Kitch, Jr. put his vast experience in the subject into a paper entitled "The Art of Racing in the Rain." In it he made it clear that experience is the main factor in gaining the skills needed to be proficient in high performance and competition driving in the rain. "Get out on a wet race track every time you can" is Don's mantra. The German race car driver Hans Stuck, "the rain meister" would agree. Stuck was not born one of the finest sports car rain racers in the world: he became one by getting out on a wet race track every time he could.
In the ProFormance Rain Skills Clinic, you will develop advanced car control skills dealing with oversteer/understeer. You'll learn how to anticipate what your car is going to do prior to it doing it.  With your new developed skills, you and your instructor will go to the track in traction sensing, kinesthetic sensory input and "wet line" exploration sessions.


ProFormance Rain Skills Clinic
AM Session: 8:30-12:30 pm
PM Session: 12:30-4:30 pm
$349 includes one on one coaching time in car (3-4 laps) wet track sensing off line experience.
Check-in 8 am or Noon
Classroom  defining goals for the day
"Becoming comfortable with discomfort." Commonly, sport and competition drivers are uncomfortable with the car active, busy, or sliding. Proficient driving in the rain on a racetrack mandates being comfortable with the car moving around. If the car is "planted and on rails" you are slow.
Driving exercises:
Power Circle – Rotate the car around a pylon to learn how to use the steering wheel and throttle to find the balance or "sweet spot" between understeer and oversteer.
Figure Eight – Experience using the brakes to initiate rotation and directional change. Timing and rate of release of the brake pedal is critical. Learn patience with the throttle and how to initiate throttle-induced oversteer to complete directional change and drive to the center pylon. Learn to anticipate oversteer at center pylon, be ready to "catch it" with the wheel.
Turn 8 Exercise – This exercise gives you experience with throttle-induced understeer on entry and trailing throttle oversteer from apex to exit to help you learn advanced car control. This exercise trains the driver to always look in the direction you want the car pointed dictating degree of wheel correction.
Lapping with Traction Sensing
Open Track – You'll have the opportunity to use all of the car control skills you've developed in the exercises in a full-on track experience. Participants will use this session for "traction sensing" – driving off line to find the grip.
You'll come away from the Rain Skills Clinic with confidence and a higher level of car control skills while navigating a wet race track all the while staying dry!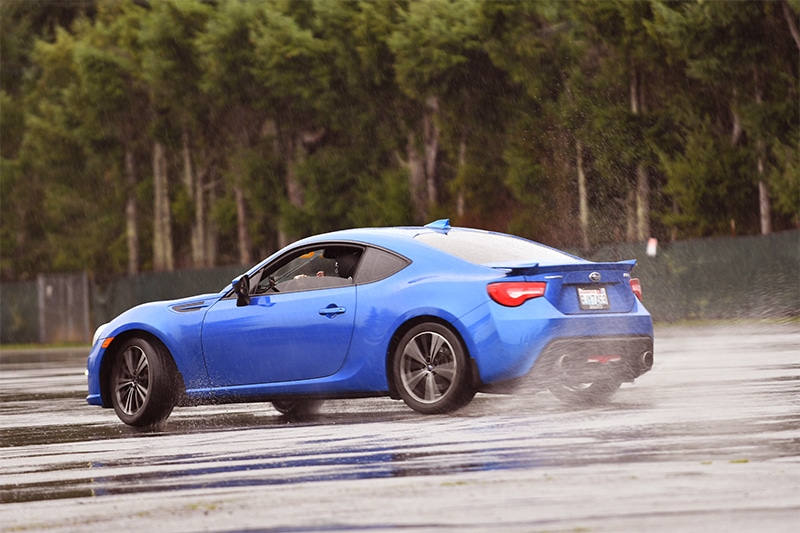 We control a lot of things at ProFormance, but the weather is not one of them. Of course, if the rain doesn't materialize we will do the best with the conditions available and make it a learning, safe, and fun experience.
Prerequisite:
Signed off solo for Pacific Raceways by ProFormance or BMW, Porsche, or Alfa Club.
Related Events